FREE TRIAL
See what the power of conversation intelligence can do for you.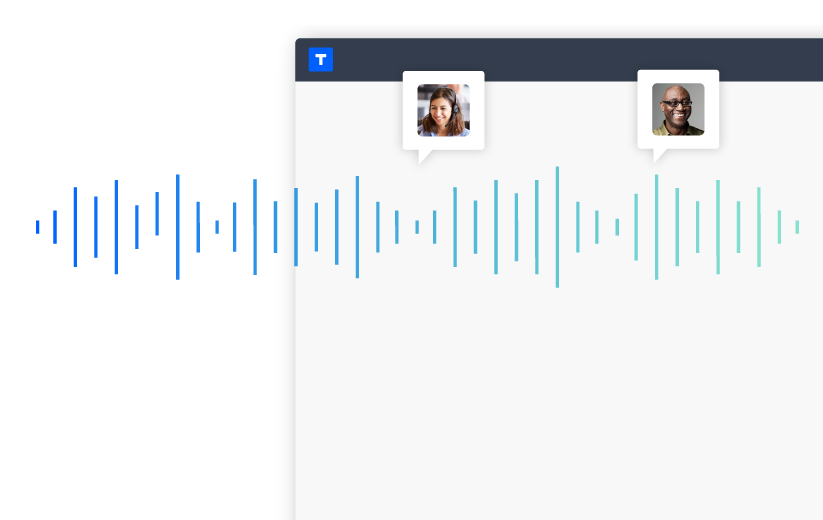 Tethr analyzes every conversation you have with customers, transforming your richest source of business intelligence into insights you can use.
It's simple to get started. Try risk-free. No credit card required.
Sign up for an account.
Explore sample conversations and dashboards in our live demos.
Upload your own calls for personalized insights
Request your free trial now.
Frequently asked questions.
What does the Tethr trial include?
Tethr's trial gives you a free, no commitment snapshot into your customer experience and shows you what's possible when you unlock the power of analytics.
See how Tethr scores customer interactions
View Tethr Rx dashboards and build reports using sample interactions
Upload your own calls and see how Tethr identifies key moments and spotlights issues that impair the customer experience
If you upload 100 calls or more, you'll unlock an analytics dashboard, which shows you top CX issues, causes of difficult calls, and analyzes customer sentiment.
What is conversation intelligence?

Conversation intelligence platforms give you meaningful information about your conversations with customers. Tethr partners with the leading voice and chat platforms used by customer care and sales teams to seamlessly integrate your raw data, including voice calls, chat transcripts, and call handling information.

Tethr provides key metrics about your customers interactions on both micro and macro levels. You can see what went wrong with a single call or how your team performs holistically.

With Tethr, you'll automatically see

Call handling information, such as average lengths, hold time, silence time, and transfers
Top reasons driving customers to contact you
What parts of conversations cause difficult for customers
Summaries of customer sentiment and driving reasons for frustration
Whether calls were easy or difficult for customers, based on a unique scoring system that analyzes hundreds of variables
How is conversation analytics different from text or speech analytics?

Conversation analytics uses text and speech analytics, but takes it a step further by understanding the nuances in conversation between two parties. Instead of just recognizing the words spoken, conversation analytics looks at the whole conversation, as well as the delays, silence, transfers, and semantics of speech to evaluate the total customer experience. Read more here.
What type of information will Tethr show me?

Tethr analyzes your calls for hundreds of different metrics and uses AI to identify key moments in each conversation. Tethr's trial version provides you the opportunity to explore some of the things Tethr can do and try some of our most popular features.

If you upload a single call or several, you'll be able to see:

Call transcripts and key moments identified in each call
Specific positive agent behaviors, such as advocacy language and the use of probing questions
Negative agent behaviors, such as confusion, misdiagnosis of issues, or if agents say they are powerless to help
Moments that lead to unhappy customer experiences: frustration, long waits, redirection, repeat information, and missed expectations

If you upload 100 or more calls, you'll unlock our analytics dashboards, which will show you:

Call metrics like average handle time (AHT), hold requests, transfers, and silence time
Reasons for customer contacts and drivers of customer frustration
Customer sentiment analytics

Custom call scoring with the

Tethr Effort Index

which shows you how difficult an interaction was
What types of customer interactions can I analyze?

Tethr's trial version allows you to upload as few as one call or as many as 1,000 customer calls. This initial release of the trial limits custom analysis to voice records in English.

We anticipate increasing the trial's capabilities in the near future to include chat conversations.
Is conversation analytics safe? How do you protect proprietary information?

We take customer privacy very seriously and have put in place several security measures to ensure your privacy and the privacy of your customers. Tethr partners with Microsoft Azure to provide the best security possible for you. We protect all the data you upload into Tethr using transport layer security transfers (TLS) 1.2 or better. The data stored in our system we protect with 256-bit AES encryption and secure with Microsoft Azure Key Vault's FIPS 140-2 validated HSM.

Once we have the audio files, we take another step to remove sensitive information from call data before analyzing the calls or storing audio files into the cloud. Often, calls contain secure information such as credit card numbers or account information. No one - not anyone at Tethr, not anyone using Tethr's platform from your company - will see information like credit card numbers in the call data.

Once you upload your calls, Tethr will automatically redact sensitive information.
Do I have to offer customer phone support to use Tethr?

No. Many customers use Tethr to analyze customer chat interactions and other digital mediums. However, the initial release of the trial limits custom analysis to voice records. We anticipate increasing the trial's capabilities in the near future to include chat conversations.

We still encourage you to sign up for a trial so you can explore the analytics dashboards or schedule a call with one of our product experts, who can tell you more about what we can do with chat support interactions.
Do I have to upload my calls to use the trial?

No. Even without uploading your own calls, you can still explore conversation analytics dashboards that we've pre-loaded with data from sample interactions. From there, you can explore transcripts, build reports, and create custom dashboards.

Thesel give you a taste of how powerful conversation analytics can be and show you what kind of insights you can draw from your own calls.
What is the difference between a trial version and the full version of Tethr?

Tethr's trial allows you to upload your calls manually. When you sign up for an account, Tethr automatically ingests your call data through our integrations with the leading telephony and chat systems.

You'll also get more insights, automatically. You'll see how each team member performs and access agent performance scoring, which evaluates how each agent performs as a whole and on each call.

You will also have the opportunity to build out custom reports based on your business. Tethr automatically detects things like customer frustration and payment issues, but the full version allows you to use machine learning to teach our system to look for key moments specific to your brand or industry.